FF-EPS – LEADING THE WAY IN EPS INSULATION
The FF-EPS thermal insulation panel developed by Finnfoam Oy and introduced at the end of 2013 is a new type of insulation product intended for insulating floors, walls, and ceilings. With a new production line, Finnfoam Oy is responding to a long-standing market demand for high-quality EPS insulation. Due to the new production method, FF-EPS designed for insulating walls and roofs is significantly more cost-effective than traditional EPS thermal insulation. The new technology enables an improved thermal insulation capacity in relation to density, which means that it provides better insulation with lighter panels. In addition, the new production technology allows for modification of the properties of the product according to the customer's requirements.
SPECIFICATIONS
Like FINNFOAM thermal insulation products, FF-EPS panels are made from polystyrene, but using a completely different production method. The range consists of FF-EPS 100 kPa (thickness 85–200 mm) and FF-EPS 60 kPa (thickness 100–400 mm), which was designed specifically for insulating walls and roofs.
In terms of properties, the FF-EPS 60 wall and ceiling insulation is in a category of its own. It has very high water vapor resistance, 25–40% better bending and shearing strength than similar EPS insulation products, as well as excellent dimensional stability and insulation capacity, which is λD 0.031 W/(mK). In addition, the panel size of 1 200 x 600 mm facilitates installation and allows for two-way fitting, while the locking tongue and groove profile ensures leak-proof insulation without thermal bridging. One side of the panel has two-way grooves, which significantly improves adhesion where necessary, for example on concrete. The FF-EPS is also available with larger two-way fluting, which function as ventilation ducts.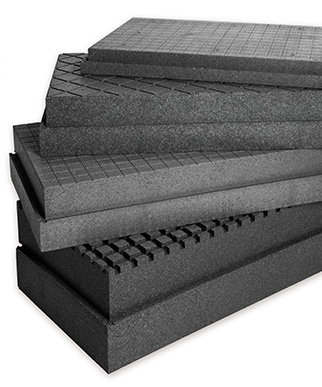 VERSATILE AND COST-EFFECTIVE
The production method of the FF-EPS 60 wall and ceiling insulation, which is being patented, allows for optimization of the desired properties. FF-EPS 60 kPa can be installed on to both concrete or wooden frameworks, and the exterior surface of the panel can be clad with wooden elements or render can be applied directly onto the surface of an aged panel. For example, the panels are attached to a concrete framework with casting, mortar or PU foam adhesive, and the attachment is then secured with mechanical anchors. FF-EPS ETICS was designed to be us as a foundation for render. The panels are aged at the plant and provide an optimal base for a rendering coat. FF-EPS is also a highly cost-effective solution for angled and flat roofs, where the desired insulation thickness can be made consistent and leak-proof with a single layer of insulation due to the locking tongue and groove profile.
BETTER INSULATION CAPACITY
Finnfoam Oy only produces gray FF-EPS, because the improvement in insulation capacity provided by this counterbalances the rise in cost resulting from the more expensive materials. Gray FF-EPS has an approximately 16% higher insulation capacity than traditional white EPS. For example, a 170-mm layer of FF-EPS corresponds to 200 mm of traditional white EPS. A thinner layer of insulation will also settle less than a thicker layer would. Where insulation thickness exceeds 150 mm, we recommend increasing the strength of floor insulation to prevent issues arising from the subsidence of the concrete slab due to the compression of the insulation. Thus, we recommend using strength class F-200 or F-300 FINNFOAM panels for the insulation of slab-on-ground foundations exceeding 170 mm. FINNFOAM does not compress and has high resistance to loads, even if the thickness of insulation is increased.
ALWAYS CHOOSE FINNFOAM FOR FROST INSULATION
Unlike the waterproof FINNFOAM thermal insulation products, FF-EPS is not suitable for use as frost insulation installed in the ground, as FF-EPS cannot withstand the freeze-thaw stress that frost insulation is subjected to, which demonstrates the long-term durability of frost insulation. The freeze-thaw resistance test, which had already been a long-standing requirement for XPS insulation products, i.e., FINNFOAM panels, became mandatory for EPS frost insulation in the summer of 2014. In terms of cost-effectiveness, FF-EPS cannot compete with the FINNFOAM F-300 and F-200 products, as the layer of FF-EPS frost insulation required to provide the same thermal insulation capacity as FINNFOAM would have to be twice as thick, when the impact of the water is taken into consideration in the thermal insulation capacity of the frost insulation.
STOCK PRODUCTS:
The minimum order for special-purpose FF-EPS insulation products is 30 m3.
FF-EPS TECHNICAL SPECIFICATIONS
(A) Short-term compressive strength 10%
(B) Fire class
(C) Tensile strength
(D) Bending strength
(E) Absorption of water when immersed
(F) Indoor air emission class